Top 5 Michael Kors ladies watches
Top 5 michael kors watches
Michael Kors Portia MK3640
Michael Kors Women's Watch Portia, 36 mm case Size, Chronograph Movement, Stainless Steel Strap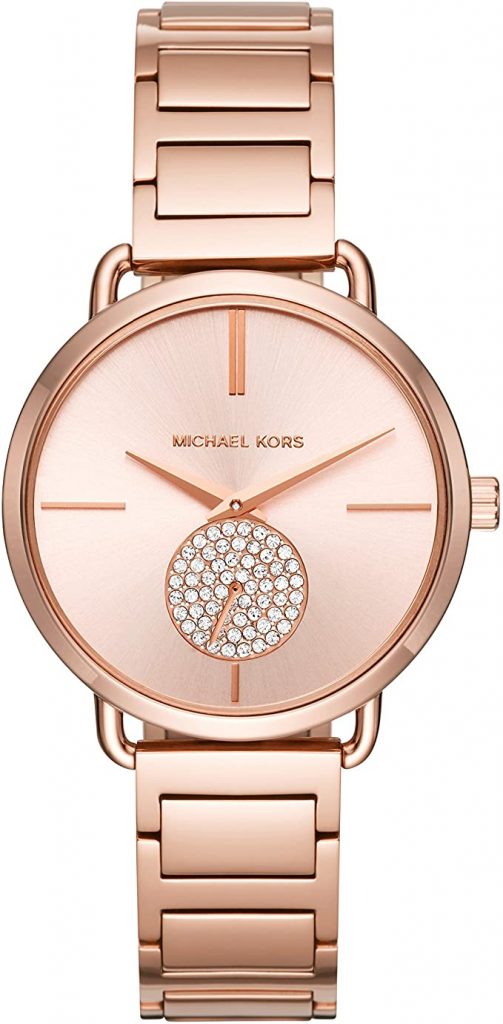 Pros
Glamorous design with gemstones dial, unique lug and rose-gold tone.
Suitable for many social events.
Cons
Some people don't like lightweight watches.
Subdail's too bright, sometimes you can't see the hand.
Review
If you think only big-face watches could make you look elegant and stylish, Michael Kors Watches Portia will make you reconsider. This gorgeous and delicate watch will undoubtedly constitute a great gift for your wife or girlfriend. The numerals and hands are intendedly minimized to the most uncomplicated design. The second gemstones dial lights up the whole face of the watch, making it the most suitable candidate for parties or formal event wear.
Rose-gold color is the hottest tone in the watch world for ladies currently. As can be perceived, the lug design is unique and trendy. The dial, though simple, is extremely well-made. The downsides are trivial. For some women, wearing a lightweight watch is not necessary an advantage since the watch could make them feel a bit weird on the wrist. Remember the feeling when you wear something and then forget that you wear it? That's exactly what some people detest.
Features
| | |
| --- | --- |
| Case Material | Stainless Steel |
| Band size | 16 mm |
| Case size | 37 mm |
| Water Resistance | 165 ft |
| Movement | Analog-quartz |


Michael Kors Darci Pavé Rose Gold-Tone Watch
Michael Kors Darci 3 Hand Watch with Glitz Accents, 39MM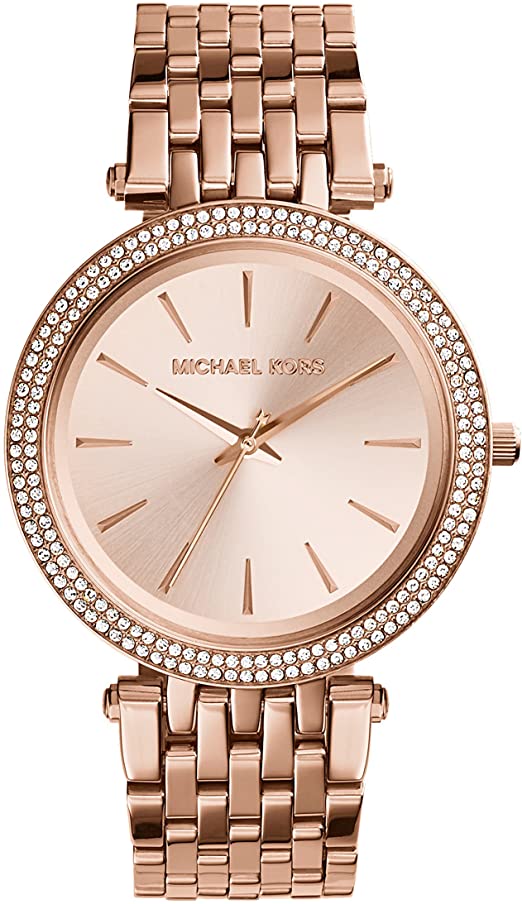 Pros
Push Clasp
Scratch-resistant mineral crystal
Water-Resistant
2-Year Warranty
Cons
The band fits tight on bigger wrists
Review
A little glam, a little girl next door, the Darci watch stands out without going over the top. It is a stunning watch, and the quality is beyond compare. A pavé-embellished bezel lends this timepiece a touch of shimmer, while the radiant rose-tone bracelet strap makes it exceptionally elegant.
The size of the watch face is perfect. It looks fantastic on small wrists. Since the face is moderately big, it keeps the watch from rotating around the wrist and ending up sitting backward.
The links are small, and the flat case makes it sit on your wrist nicely. Compared to this watch, other bulky watches look too clumsy.
It looks great with a white tee, blazer, skinny jeans, and pumps.
Features
| | |
| --- | --- |
| Case Material | Stainless Steel |
| Band size | 13 mm |
| Case size | 39 mm |
| Water Resistance | 165 ft |
| Movement | Quartz |


Michael Kors Pyper Three-Hand Stainless Steel Watch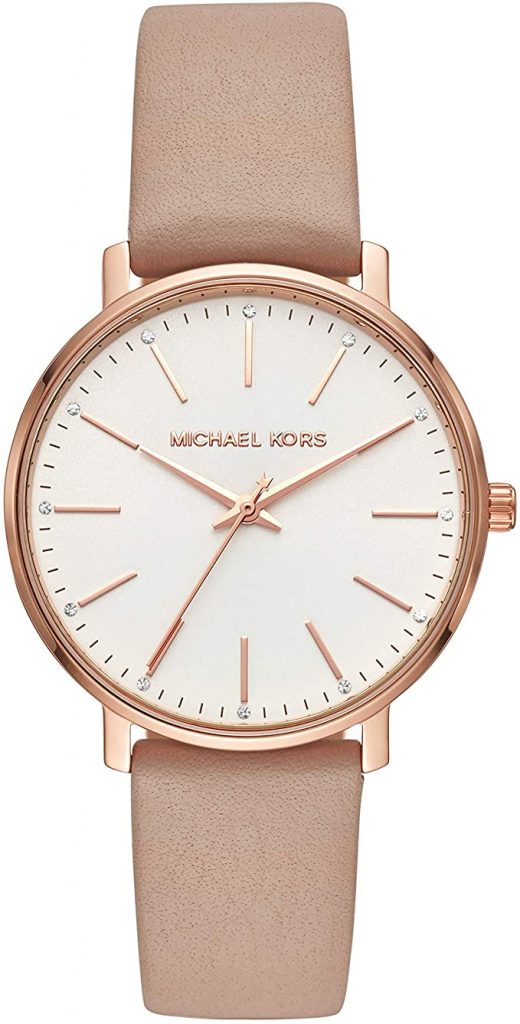 Pros
Scratch-resistant mineral crystal
Adjustable buckle closure
Gold-tone hands and hour markers
Review
If you are looking for a watch that looks elegant, sleek, professional but not bulky, then the Michael Kors Pyper watch is the right watch for you. You can wear it with any outfit, and it has a clean-cut, professional vibe with a tiny bit of sparkles on edge.
It features a minimalist watch face. It looks great solo, or you can wear it with gleaming bangles for the glamorous effect.
The watch is lightweight and very comfortable for all-day wear.
It comes with a nice, sleek genuine leather strap with adjustable buckle closure to fit a large wrist. The large round dial makes it easy to read the time.
Features
| | |
| --- | --- |
| Case Material | Stainless Steel |
| Band size | 18 mm |
| Case size | 38 mm |
| Water Resistance | 165 ft |
| Movement | Quartz |


Michael Kors Women's Ritz Watch with Crystal Top ring
Michael Kors Women's Blair Rose Gold-Tone Watch MK5263
Pros
Scratch-resistant mineral crystal
Bracelet with deployant clasp
Water-resistant
Sleek design
Cons
Feels very light
Small watch band
Review
There are many reasons to love this oversized rendition of the Michael Kors Ritz watch. This watch combines a rose gold stainless steel dial with a menswear-inspired bracelet strap and chronograph display for a chic and timeless look.
It is a pretty large and heavy watch. The case thickness is 11mm, while the diameter is 37mm.
With crystals all around the bezel and crystals at every hour mark, this watch is quite blingy.
The watch is water-resistant up to 165 feet. Suitable for bathing, recreational swimming, or snorkeling, but not scuba diving.
Not a watch to get if you have small wrists or do not like a large, heavy watch because this is certainly that.
Features
| | |
| --- | --- |
| Case Material | Stainless Steel |
| Band size | 18 mm |
| Case size | 37 mm |
| Water Resistance | 165 ft |
| Movement | Quartz/Chronograph movement |


Big Face Watch
Michael Kors Parker Stainless Steel Watch With Glitz Accents
If you are looking for a trendy-look watch, Michael Kors offers various of big-face watches. It's quite hard to determine which is big or small watches. However, in Michael Kors, you will find out that 39mm to 44mm in dimension is considered big. The big-size phenomenon appears when people start to look at the traditional size of watches and realize big-size watches breathes a new contemporary sense to watch wearers.
Michael Kors Parker MK5896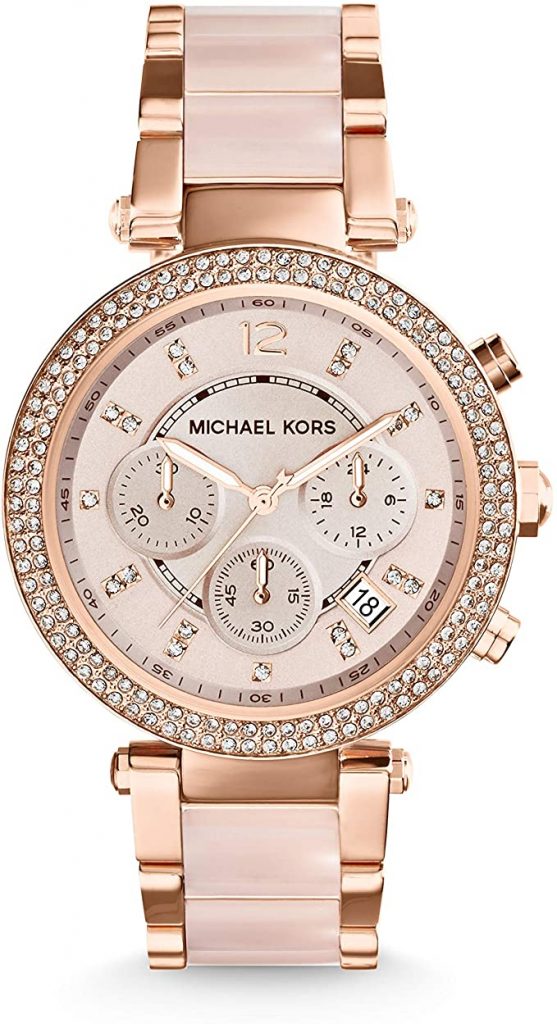 Pros
High level of water resistance
Affordable price
Elegant design which is suitable for formal events
Cons
Stainless steel is less resist to scratch and dust
Review
This MK5896 and MK5774 models enchant watch lovers with their glamorous gemstone bezel. The watch face, which is decorated with gems coupled with the Swarovski crystal markers, brings a fresh look to your wrist. The double-push clasp ensures the safety when you wear your watch. These two items can be perfectly teamed with feminine dresses such as long dresses or tailored ones. Furthermore, both watch models have a high level of water resistance, which means if you can wear your watch during swimming and bathing.
The price could be a push-off for many people since it is way cheaper than their looks. People who aim for luxury style may want to buy more expensive watches. Nevertheless, if you are seeking something that will light up your outfits informal events or just want to look gorgeous on regular occasions with an affordable price, this is the best option for you.
Features
| | |
| --- | --- |
| Case Material | Stainless Steel |
| Band size | 18 mm |
| Case size | 39 mm |
| Water Resistance | 330 ft |
| Movement | Analog-quartz |